April 25, 2012 Arkansas Civ Pro Webinar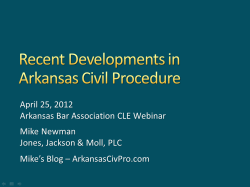 At noon on Wednesday, April 25, 2012, I will be doing a 1-hour CLE webinar called "Developments in Arkansas Civil Procedure" for the Arkansas Bar Association.
During the talk, I will focus on significant Arkansas civil procedure appellate decisions and noteworthy rule changes from 2011 and 2012.
You'll be able to see the PowerPoint presentation through the web. The written materials include a summary I prepared of 30 or so noteworthy civil procedure cases.
You can register at the link below.