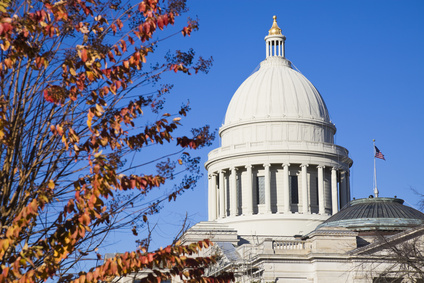 In Arkansas Game and Fish Com'n v. Eddings, — S.W.3d —-, 2011 Ark. 47, issued February 9, 2011, the Arkansas Supreme Court held that the Arkansas Constitution's grant of jurisdiction to county courts over county roads does not create an exception to the State's sovereign immunity from suit.
Appellee Ben Eddings owns about 40 acres of property near the Buffalo National River in Newton County. The property is landlocked on two sides by National Park Service property and on two sides by the Gene Rush Wildlife Management Area, owned by appellant Arkansas Game and Fish Commission (AGFC), a state agency.
On April 20, 2005, Eddings filed a petition with the Newton County Court to establish a road across the AGFC property. On January 9, 2006, the county court entered an order permitting Eddings ingress and egress across the AGFC land. AGFC unsuccessfully sought dismissal on the basis of sovereign immunity, and then appealed to the circuit court. The Newton County Circuit Court determined that article 7, section 28 of the Arkansas Constitution, granting to county courts exclusive original jurisdiction over county roads, prevailed over the State's claim of sovereign immunity.
The Arkansas Supreme Court disagreed.
The supreme court noted that article 5, section 20 of the Arkansas Constitution contains a grant of sovereign immunity to the State barring it from being a "defendant in any of her courts." Sovereign immunity applies whenever the pleadings indicate that a judgment for the plaintiff would "operate to control the action of the State or subject it to liability." The doctrine of sovereign immunity includes state agencies.
There are three ways in which to overcome a claim of sovereign immunity:
when the State is a moving party seeking specific relief;
when there is a specific legislative waiver of immunity; and
when a state agency is acting illegally or a state agency officer refuses to do a statutorily required ministerial action.
The supreme court held that article 5, section 28 does not itself grant county courts the power of eminent domain. Their imminent domain power is by virtue of the implementing legislation of Arkansas Code Anotated sections 27-66-401 to 27-66-404. Whenever the power of eminent domain is based, at least in part, on a legislative act, it will yield to the State's right of sovereign immunity.
Thus the court held that the county courts' constitutionally granted jurisdiction over county roads does not limit the State's sovereign immunity. And since none of the sovereign immunity exceptions applied to this case, the supreme court directed the circuit court to dismiss the case without prejudice due to AGFC's sovereign immunity.